Lipsmart Ultra-Hydrating Lip Treatment
Say hello to the game changer, delivering medical-grade hydration for visibly healthier lips in just 60 seconds. Lipsmart replenishes your lips with all they need to heal quickly and beautifully, for soft, smooth, supple lips.
Free of irritants and harmful ingredients, our clean-beauty formula gently restores the natural plumpness of your lips though intense hydration, and collagen reproduction, actively combating dryness, fine lines, cracking, and even flaking.
Our signature blend is peptide and ceramide rich, boosting collagen production for fuller, healthier lips. Active ingredient Phytokine quickly restores the in-depth water reservoir in the lips, and helps to repair the skin's natural barrier, locking in moisture.
Suitable for all skin types
Immediately softens and smooths for relief
Helps speed up recovery and repair
Combats all levels of dryness
Instant, and long-lasting results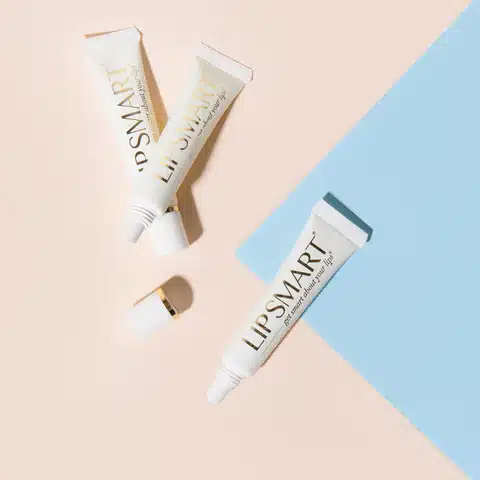 Our peptide and ceramide rich formula hand in hand with natural soy proteins kicks collagen production into high gear, while also helping to repair the lips natural protective barrier. Collagen plumps the lips back up naturally, while the natural barrier provides protection, and retention of moisture.
We put our lips through a lot of abuse, and over time that barrier becomes broken and lacking. Lipsmart not only helps the lips to repair that damage on their own, but takes it to the next level with Tribehenin, which will quickly soften and moisturize the skin before sealing the good stuff in.
With the magic mix locked in, it will continuously bring in more moisture throughout the day, for long-lasting hydration.
Next-level hydration, long-lasting relief, and smooth, soft, naturally plump lips in just a minute. Watch Lipsmart transform the lips of a medical doctor in her fourth year of residency, visiting our booth live at a medical tradeshow:
Your solution for all lip concerns ~
Lipsmart's versatile formula tackles all lip concerns by eliminating the cause – dryness. All the while, our formula is
Gluten Free
Paraben Free
Hypo-allergenic
Dermatologist recommended (of course!)
and Cruelty Free!