Advanced Skincare Backed By Science.
Our mission is to improve skin health. Dedicated to this purpose, we make one simple promise—to provide advanced skincare backed by science.
Born from decades of skin cancer research that led to pivotal breakthroughs in antioxidants, our high potency formulas are concentrated in pure actives and proven to penetrate optimally into skin.
Made in the USA, our clinical skincare is used by dermatologists, plastic surgeons, and medi-spas for daily homecare and to complement aesthetic procedures. We formulate to correct signs of aging, protect healthy skin, and prevent future damage.
Research and innovation are at the core of the SkinCeuticals mission, and our dedication to science has established the brand as a leader in the advanced skincare arena. The company's founding was the direct result of a revolutionary discovery that set the standard for antioxidant formulation. SkinCeuticals continues to pioneer next-generation products that will optimize the health and beauty of the skin—and change the face of skincare for years to come.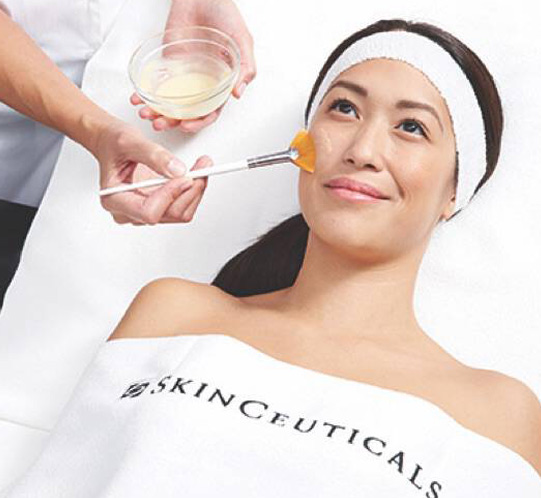 Professional Treatments & Skincare
As the #1 Medical Skincare Brand, we believe that the key to optimal skin health is a skincare professional. By combining a customized at-home regimen with powerful in-office treatments and targeted skincare solutions, the result is healthier skin with visible improvement in fine lines, wrinkles, and other signs of premature aging.
Skincare formulated to maintain and improve skin health. An effective skincare regimen must contain three fundamental elements: Prevention, Protection and Correction. Designed to prevent signs of future damage, protect healthy skin, and correct the appearance of previous damage,
SkinCeuticals is committed to advanced skincare products that are backed by science
The Skinceuticals Difference
A topical vitamin C antioxidant must be formulated properly to be effective on skin. This is dependent on three factors: The form of vitamin C used, the concentration, and the pH of the solution.
In the years since the patent, each subsequent antioxidant generation has been subjected to rigorous clinical studies—and the results are clear: SkinCeuticals vitamin C serums neutralize free radicals caused by solar radiation and other environmental factors while helping to maintain and improve the overall appearance of skin.
Frequently Asked Questions
What in-office procedures and professional treatments does SkinCeuticals offer?
SkinCeuticals offers a range of clinical-grade professional peels and facial treatments performed by SkinCeuticals skincare professionals in doctors' offices and medical spas. When these targeted skincare solutions are combined with a customized SkinCeuticals at-home regimen, the result is healthier skin with visible improvement in signs of accelerated skin aging and other skin conditions.
Why are SkinCeuticals products different?
SkinCeuticals products are backed by science from the first stages of their development through the packaging of the final formulations. Extensive medical-grade clinical testing that proves our products' efficacy sets SkinCeuticals apart from other cosmeceutical brands on the market.
What does an antioxidant do for my skin?
Antioxidants provide protection from free radicals that cause damage deep within the skin. Unlike sunscreens that protect skin from UV rays, antioxidants prevent skin damage caused by other environmental aggressors such as infrared radiation, pollution, cigarette smoke, alcohol, and more. SkinCeuticals antioxidants have also been proven to reverse skin damage, including fine lines, wrinkles, and hyperpigmentation.
Putting expert
training to
work for you
Dr. David Sax